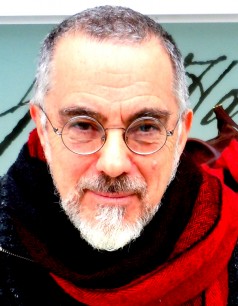 Such is the world we inhabit: while wasting time on Facebook, between political news and recipe videos, an obituary of someone you know, half a world and years away, appears… Death asserts itself everywhere.
I met
Daniel Abdal-Hayy Moore
in Philadelphia on Saturday, May 21, 2005. I don't recall that because I have good memory, but because I blogged about it that day. Daniel was a judge on the Philadelphia Reading Series Open Poetry Competition, which was held at The Book Corner, a second-hand bookstore near the Free Library of Philadelphia, and around the corner from where I worked at the time. I'd been writing poetry and posting it online for a couple of years then, but that was the first time I'd read it in public. I was terrified… and I won
second prize
! Daniel came up to me afterwards and congratulated me. He was an editor of English translations of Mahmoud Darwish, one of my all-time favorite poets, and it meant so much to me.
The following year, thanks to Daniel, I was featured in the
Other Voices International Project
. But soon after, Daniel was there for me during one of the darkest episodes of my life. During Israel's war on Lebanon in the summer of 2006, I was in Philadelphia while my family was under the bombs in Lebanon. I was at my wits end, feeling helpless and hopeless. I was in the streets demonstrating, reading my poetry to anyone who would listen. Daniel was part of a poetic "
call to arms
" I held online; and along with Laurie Pollack and Arlene Bernstein, helped me form
Philly Poets for Peace
, which raised money for the UNICEF Emergency Relief Fund. Daniel and I read from Darwish's
To an Iraqi Poet
, he in English and I in Arabic; it helped me hold on to my sanity during that nightmare. A year later, Daniel helped me publish four poems in
Islamica
magazine...
And then, as they say, life happened. We lost touch, I wrote less and less, and eventually I moved back over the Atlantic to Europe… I'm ashamed to admit I followed the news of Daniel's illness recently on Facebook in silence. Words may be what brought us together, but words failed me… I didn't know what to say, so I said nothing. And here I am, at a loss of words again. So I'll just borrow from my younger self, and dedicate
to you one
of the poems you helped me publish,
The Flight of the Swallow
… Forgive me my silence.